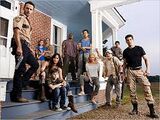 This is the storyline of the events after season 3 of the walking dead occured.
Written By: DominicT22
Episodes
Season 4:
The Walking Dead/Season 4/Episode 1- horror-fanfic.wikia.com/Season_4_Episode_1:_Safety_Behind_Bars
Cast
Andrew Lincoln as Rick Grimes
Norman Reedus as Daryl Dixon
Steven Yeun as Glenn Rhee
Lauren Cohan as Maggie Greene
Chandler Riggs as Carl Grimes
Danai Gurira as Michonne 
David Morrissey as The Governor/ Philip Blake
Melissa McBride as Carol Peletier
Emily Kinney as Beth Greene 
Jose Pablo Cantillo as Caesar Martinez
Chad L. Coleman as Tyreese 
Sonequa Martin-Green as Sasha
Melissa Ponzio as Karen
Scott Wilson as Hershel Greene 
Trivia
This story is written by DominicT22.
This is the second story on this wiki, the first being A Nightmare on Elm Street: Never Sleep Again, written by Lee Dixon.
This is the first story ever written by DominicT22